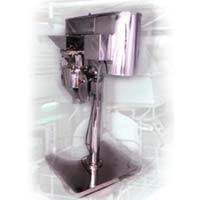 Salient Features :

• Multi mills and industrial multi mills are widely used for wet and dry granulation, shredding, pulverization etc. in pharmaceutical, chemicals and other industries.
• Standard and lab models available.
• GMP/ Flameproof/ SS 316 construction on demand.
• Direction of beaters can be changed by reversible switch.
• All contact parts can be easily and quickly dismantled and cleaned.
• Machine is designed for continuous operation.
• Cylindrical screen for higher output.
• Castor provided for ease of mobility.
• Beaters and scrapper blades of SS 410 quality are hardened and polished to mirror buff.