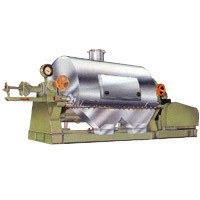 The feed stock is introduced into a single
or twin steam heated drum dryer in a uniform film by use of variety of feeding devices and arrangements depending upon the material to be dried. The moisture is dried off in less than one revolution and the dried solid is removed usually in the form of a thin sheet/powder by doctor blade.
Advantages:
• Minimum Thermal degradation
• High thermal efficiency
• Fine and spheroidal product
• Minimum labor requirements
• High output
• Continuous process
• Accomplishment of drying in single step,eliminating need for any intermediate concentration processes.